Château de Marçay
28-02-2016
castle of the Loire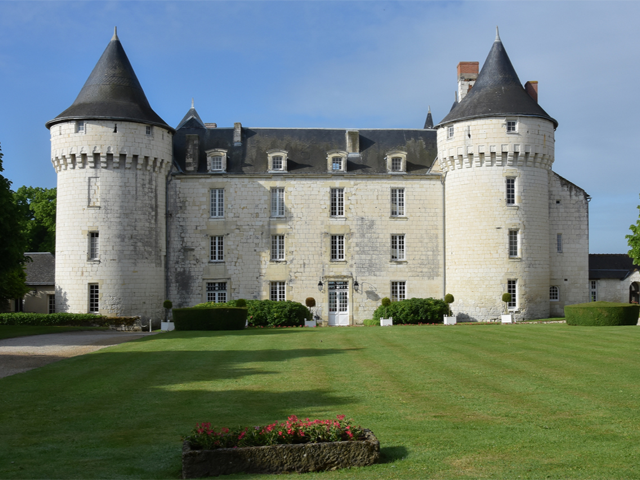 Located in the Val-de-Loire countryside, a one-and-a-half-hour drive from Château des Briottières, Château de Marçay emerges like a green island dominated by an authentic and oh-so beautiful fifteenth century chateau. Without having lost its spirit, the chateau now has all the modern comforts to enable you to totally immerse yourself in history.
An imposing castle beautifully weathered by time
During its development into a hotel in 1973, Château de Marçay avoided those severe facelifts that often strip these old buildings of all their charm. From across its six centuries, the main building and its outbuildings were adorned with the signs of the times, which strengthen that pleasant feeling of being hundreds of years in the past. In this chateau, the old stones speak, inviting us to fully live like the lord who was head of all the families that succeeded him.
Located in the Pays de la Loire countryside, the huge park is simply majestic, with the clean lines and perfect symmetry of French gardens. Long shaded paths are ideal for a quiet romantic stroll, while the grassy area at the foot of the castle allows for a family picnic when the sun is shining. The estate's vineyards, which can be toured, produces several hundred bottles of Cabernet blanc de Touraine annually.
An emotion-filled holiday in Château de Marçay
Throughout your stay, it is important not to miss out on the culinary experience that the chateau's restaurant offers. Drawing its flavours from regional produce, and also from the estate's vegetable garden, the dishes are flavoursome, reflecting the seasonal colours. Cooking classes are available on request for those who want to learn to cook up Touraine recipes.
Sheltered behind a beautiful green hedge that protects the historic aspects of Château de Marçay, the beautiful swimming pool is a small haven of modernity made for relaxation, together with parasols and sun loungers. In Marçay, bicycle trails abound, providing special moments to connect with nature and the historical heritage of the Pays de la Loire.
Another way to explore the region is to canoe down the river Vienne. Lastly, you can take to the skies on board a hot air balloon or helicopter.