Domaine des Hauts de Loire
31-01-2016
castle of the Loire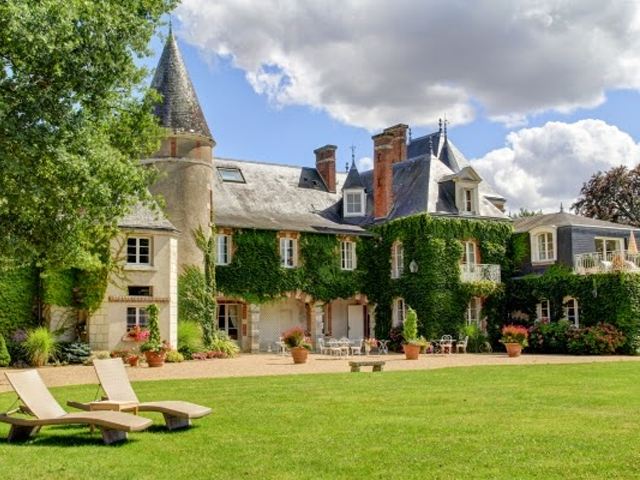 A stay in the Loire Valley is the promise of a sojourn that connects you with history. Prolong the experience by choosing to stay in an authentic monument during your visit. Located a two-hour drive from Château des Briottières, the Domaine des Hauts de Loire is a prestigious nineteenth-century residence that sits in the middle of an immense 70-hectare park.
A beautiful castle for an unforgettable getaway
The Domaine des Hauts de Loire castle grounds were mostly forested land with just a few houses before Ernest Panckoucke, a Parisian publisher, decided to build the current monumental building. His son would eventually extend the building that we know as the "château du pavillon" ("pavilion castle").
Today, the current owners have transformed it into a place of relaxation. The castle, with its facade covered in climbing vines, has retained its historical appearance, but the interior has been embellished with every amenity required to make it an illustrious home-from-home for the holidays.
The furnished terrace in front of the chateau is the perfect place to enjoy a coffee while admiring the surrounding verdant landscape. The park itself, which extends over 70 hectares, is divided between a large lawn, woods and ponds where ducks, Egyptian geese and swans swim peacefully by. To explore the vast castle grounds, there is a choice of hiking or cycling.
The secrets to a dream holiday in the Domaine des Hauts de Loire
The restaurant at Domaine des Hauts de Loire is one of the most famous restaurants in the area. The simplicity of the recipes, with their devotion to perfection, guarantees an experience of culinary discovery. Local produce and regional wines feature prominently. For relaxation, the beautiful pool promise moments of tranquillity. You can also get active with a spot of tennis or bowling ("pétanque").
From the Domaine des Hauts de Loire, link up with the wine trail that follows the river, and explore the beautiful vineyards of the Pays de la Loire. A short distance from the estate, the Château de Chambord is one of the most beautiful historical monuments of the Hexagon with its many turrets. The Château d'Amboise is also easily accessible, as is that of Blois. And during your stay, be sure to follow the Loire by boat or bicycle to discover a protected ecosystem that is now part of UNESCO World Heritage.