Château de Noizay
20-01-2016
castle of the Loire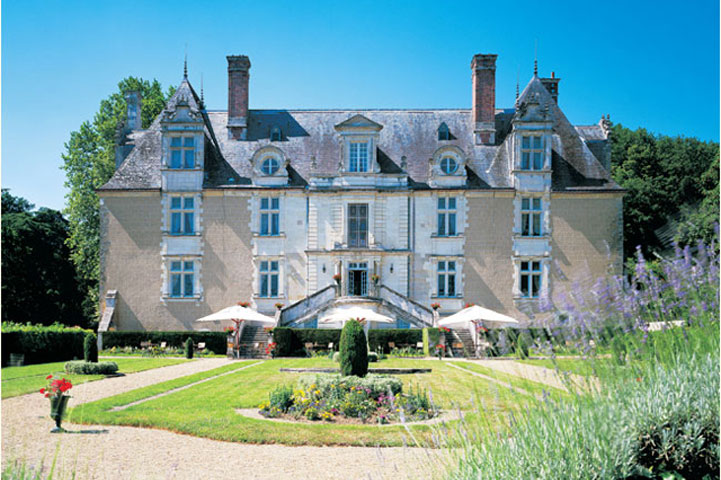 Located a two-hour drive from Chateau des Briottieres, halfway between the city of Amboise and Tours, near the vineyards of the Loire, Château de Noizay stands as monument to the sixteenth-century, immersing you in the history of the region. It was once a Protestant stronghold. For lovers, with family or with colleagues, it is an idyllic place to escape to.
A Renaissance castle for a holiday stay.
Going to Château de Noizay for a holiday brings with it the great privilege of staying in a preserved stately residence. Surrounded by a beautiful French-style garden, this Renaissance castle has retained its prestigious tapestries and stained-glass windows that narrate the history of its former occupants.
The drawing rooms are decorated with velvet and silk, and the library has a wonderful collection of books. The rooms, while enjoying all the modern comforts and amenities required for a dream holiday, retain a timeless style with their vintage decor.
Château de Noizay has a large garden with its strict lines, clipped hedges and copses seducing the onlooker. When the weather permits, it is the ideal place for a rendezvous with a lover or with family. In the early evening, its paths are perfect for a stroll. At that time, the illumination of the Château creates an enchanting ambiance.
What to see and do during a break at Château de Noizay
For residents of Château de Noizay, one of the most popular activities is discovering the prestigious monumental sites located nearby, with Chenonceau, Azay-le-Rideau, Blois or even Villandry, to name but a few. While travelling by car is faster, a bicycle is by far the more pleasant choice.
Nowadays, the region has hundreds of marked trails. Nearby, the vineyards of Vouvray are perfect for an evening stroll, to admire the sunset in a most beautiful setting. And in the meantime, you can take wine courses in the estate's cellar.
At the castle, activities are plentiful with a tennis court and a heated pool. The diversity of local produce from the region is reflected in the restaurant's fine cuisine. Children will be delighted as they enjoy memorable games of hide-and-seek in the vast park. And it is also worth knowing that it is possible take a helicopter ride from the castle itself to explore the entire region from on high. This is an original way to discover the many châteaux of the Loire.