A romantic weekend in a chateau of the Loire
24-01-2016
castle of the Loire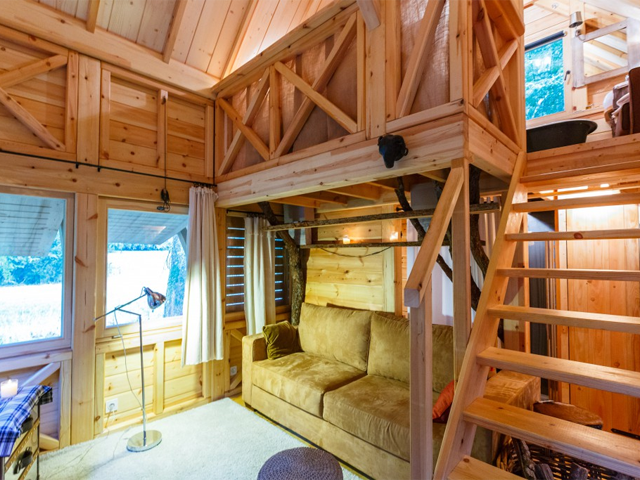 The idyllic scenery of the Loire Valley lends itself to a romantic getaway in a magnificent chateau. Sumptuous castles built from the Middle Ages on, sit enthroned on its banks. Did you know that it was also during this time that courtly love, an idealised form of love where knights in shining armour courted noble ladies, began to be celebrated?
Visiting a Loire chateau is a truly romantic choice, as you relive, through its history, the romance of those who once loved so deeply here. Chenonceau, Plessis Bourré, Serrant or even Brissac are just some of the castles accessible from Briottières.
Snuggling up in a cabin lodge surrounded by nature
For a couple looking for a romantic getaway, what could be better that a haven of peace lost in the shelter of a protected forest? When you visit the Briottières cabin lodge, you cannot help but fall under the spell of this beautiful wooden building, which will awaken a desire to be at one with nature in you.
At the heart of this cosy nest, lulled by the birdsong and the murmur of the leaves, a spa can be found. For those stays in the depths of the cold winter months, the wood stove will warm your heart, with this rustic touch accentuating the scenery.
Flying high up into the sky in a hot air balloon
One of the most fascinating holiday activities in Anjou is a flight in a hot air balloon. This aerial adventure promises both a sensory experience and the discovery of the most beautiful castles of the Pays de la Loire from a different angle. There is nothing more pleasant than admiring these historic buildings set within their huge parks.
The overall view from on high guarantees moments of ecstasy. And to capture the moment with friends, nothing beats a small selfie for two with the distant horizon and the landscape below as a backdrop.
Romantic gourmet getaway in Pays de la Loire
Each romantic outing in Anjou offers an excellent opportunity for lovers to discover the gastronomic richness of this thousand-year-old region. Food specialties abound, not to mention the unmissable rillauds, a delicious pork dish that is eaten with a salad and the Anjou-style veal rump.
For dessert, share a delicious Crémet or a soufflé au Cointreau. A romantic getaway in the midst of the Pays de la Loire vineyards is an opportunity to enjoy both the countryside and the fruits of the cellar.